Flex Nibs
6 9 2019 by fakefred
Just obtained some flex nibs a few days ago.
TL;DR: I bought myself some flex nibs and found them quite good.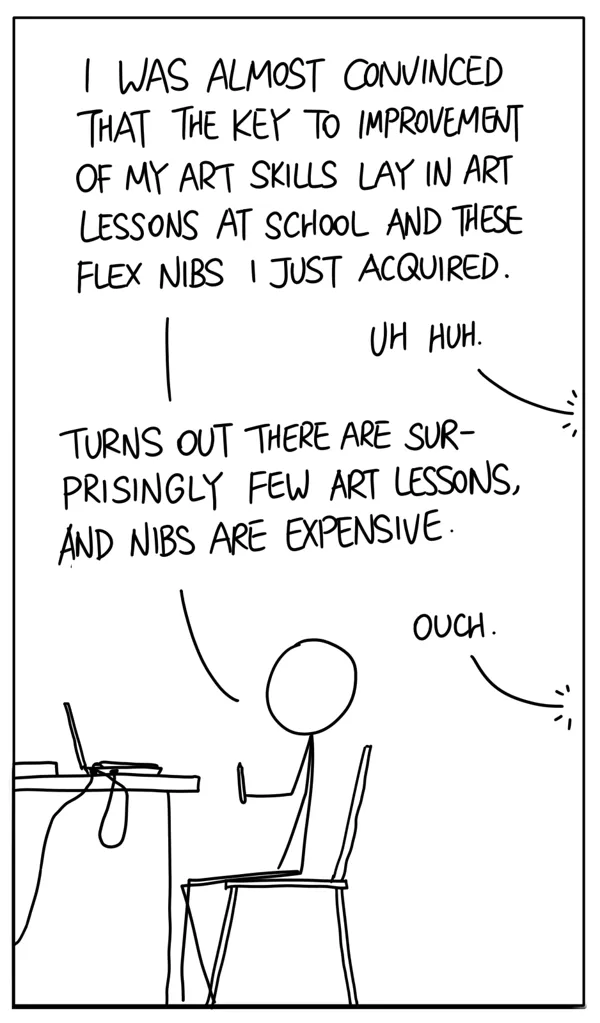 As you can see, my regular nibs I got from the original package are wearing off pretty fast. So, I ordered a pack of (i.e. 5) flex nibs; with some vinyl at the very tip, they are more resistant to the decay that sharpens the regular nib, and thus glitching my tablet (noooooo).
My tablet is a good old Wacom CTH-490 w/o a wireless bundle, because (a) it's heavy and (b) I'm not sure whether my Manjaro + Xorg + KDE + Krita workflow would fully support this hack. It's astounding how easy it is for stuff to break out of no reason… Huge thanks for the linuxwacom team.
So: despite Wacom's capitalism, the nibs feel pretty good, and they provide more control. All comics from 38: Improvement will be drawn with flex nibs. You will gradually get to know whether it actually improves my art skills.
Art
Upon receiving the nibs, I immediately drew the nib remover that was in the package along with the nibs.
Preview:
Original-size PNG: https://fkfd.me/static/nib-remover-on-the-semicolon-key.png
Original KRA: https://fkfd.me/static/nib-remover-on-the-semicolon-key.kra